"If it brings [young LGBTQ people] joy to call me a "queer icon" on the internet, then 100 percent fucking do it. I wish I had a gay icon. This is a new generation of kids who have queer people to look at and be like, "I want to be like them one day." We had straight people who were our gay icons, and we adored them, but there weren't a lot of gay people who were hot, out, and loud. In that sense, of course, if it makes these kids happy, I feel like I'm doing something of importance."
- King Princess[1]
Mikaela Mullaney Straus[2] (born December 19, 1998), known professionally by the pseudonym King Princess, is an American singer-songwriter, multi-instrumentalist, and producer from Brooklyn, New York. She is currently signed onto Mark Ronson's Zelig Records label and was the first artist to sign onto that label. In February 2018, she released her debut single "1950" which charted on multiple charts, most notably #17 on the US Alternative Song Charts[4]. Straus followed this with her second single "Talia" in April 2018. She later released her debut EP Make My Bed on June 15, 2018 which also peaked at #1 of the Hot New Zealand Music Charts[5]. In addition, she is currently working on her debut album, Cheap Queen[6][7].
King Princess identifies as genderqueer and uses she/her pronouns. Moreover, she identifies as gay[8][9]. In an interview by MTV News, Straus explains that she chose her stage name because it "encompasses the complexity of [her] gender"[10].
Early life
Edit
Straus was born and raised in Williamsburg, Brooklyn, New York. Her great-great-grandparents were businessman Isidor Straus and Ida Straus[11], who both died in the sinking of the passenger ship RMS Titanic[12][13].
Straus is the daughter of recording engineer Oliver Straus and businesswoman and civil right activist Aggie Mullaney[14]. She also has a sister[15][16] and a brother[17].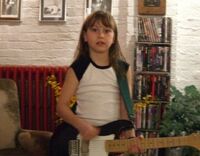 Her parents are divorced and she grew up part time at both of their houses in Brooklyn[11].
"My mum and my dad, they were really supportive of me — they were in bands together when they were young, my dad works in music. I have a really great, creative family. They never urged me to do anything that wasn't creative. They were never trying to get me to be a banker or some shit. It was a great upbringing, with overly caring parents."
- King Princess about her parents[11]
She spent much of her childhood with her father, in his Mission Sound studio. There, she learned several instruments, including bass, guitar, piano and drums, as well as music production techniques and insight into the music industry as well as meeting multiple celebreties including Missy Elliott[18]. Speaking about that time Straus said:
"I was the studio rat. Bands would be asleep on the couch, and I'd be like, 'Hey!' And they were fucking lovely to me [...] People would come through and teach me shit."
- King Princess[6]
Straus's inspiration in those years had come from the rock music of the bands Led Zeppelin and T. Rex, as well as Jack White[6] which was influenced by her parents' love for rock music. Thus, growing up she wanted to be a rockstar[18]. She turned down her first label deal with Virgin Records[19] at the age of 11 in order to stay focused on school[20]. She started writing her first songs when she was 13[18] and knew that she wanted a label that would let her work on her own without pressure, drawing from the expierences she had growing up in a studio[18].
"[...] Finding a managment team and a label that [...] gives me the space to do whatever I want and there isn't any pressure from any[one] [...] I grew up in a studio and what would happen was band would come through and they would write music and I'd be like 'This fucking music is amazing' and then the label would get involved or whatever [...] and my dad and I would listen to the final product and we're like 'What the fuck is this?' [...] I watched so many talented people just fucking go down the drain and I think that that was the best training."
- King Princess abot finding a record label[18]
After high school, Straus moved to Los Angeles to study at the USC Thornton School of Music, however after a year she dropped out in favor of her music career[6][21].
Life & Career
Edit
2012-2013; 2015: Musical beginnings
Edit
Straus first released material under her former stage name Mikaela Straus. She released her first song, "Just a Dream" in September 2012[22] on the online streaming platform Soundcloud. The song was followed by "Bullets" in January 2013.
Straus later released four songs , "Falling Apart", "Lemonade", "Scared of Me" and "Solid Gold", on the video platform Vimeo in November 2015.
2017-2018: "1950", Make My BedEdit
After turning down record deals earlier in her life, Straus started to look into record deals[18] and in 2017 she became the first artist to sign onto Mark Ronson's Zelig Records label which is an imprint of Columbia Records[23].
"I felt that [...] if I didn't know exactly what I wanted my shit to sound like and I didn't know who I wanted to be involved [with] and I didn't know [...] what my production sounded like I had no place signing a record deal. So when I knew I was ready that's when I started working with Mark Ronson."
- King Princess speaking about signing onto Zelig Records[18]
She first released material under her stage name King Princes when she uploaded two songs, "Send Pix" and "Sunburn", to the online streaming platform Soundcloud in December 2017[24][25].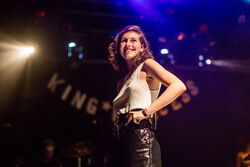 However, she really started her career with the release of her debut single "1950" which peaked at several charts and has been certified platinum[26]. "1950" is a tribute to the 1952 novel The Price of Salt by Patricia Highsmith, to the LGBTQ Community and to queer love[21]. The song reached a wide audience when British singer Harry Styles tweeted a lyric from the song [27]. Straus followed this with the release of her second single "Talia" in April that year.
On June 15, 2018, she released her debut extended play Make My Bed[28] which she wrote during her one year of college[18].
It has also been confirmed by both Billboard and Harper's Bazaar that she is working on a full-length album[6][7]. In the interview Straus also confirmed that the record is still in the works as "I've [Straus] got this record that I'm really proud of too. It's not done, but when I put it out, it's gonna be good"[7]. On November 1, 2018, she released the stand-alone single "Pussy Is God" which was co-written by her former significant other Amandla Stenberg.
2019: Cheap Queen, Coachella Edit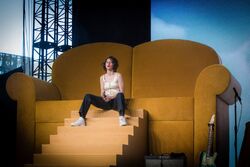 In January 2019 Straus collaborated with Fiona Apple on a cover of the latter's song "I Know". From January to February she toured the first leg of her Pussy Is God Tour on which she played several unreleased songs that would be featured on her upcoming debut album, Cheap Queen. In March 2019 Straus released a playlist on Soundcloud called Remixes in which she remixed famous memes into house tracks.
On April 12 and April 19, 2019 King Princess played at the Coachella Valley Music and Arts Festival which she received critism for as the owner donates to anti-LGBTQ+ organizations[29]. On April 17, 2019 she held the Gilly Studio & King Princess Art Show with Clare Gillen. The exhibition itself was titled "A Family Kiki". Afterwards, on April 22, 2019 Straus started the second leg of her Pussy Is God Tour which is expected to end in June 2019.
On May 31, 2019 King Princess released the lead single and title track of her debut album, "Cheap Queen". A few days later she also released "Useless Phrases" on June 13, 2019. Later, "Pieces of Us" a single by Zelig Records founder Mark Ronson that features Straus was released on June 17, 2019. On July 19, 2019 "Prophet" was released as the second single of Cheap Queen. She released "Ain't Together" as the album's third single on September 3, 2019.
Personal life
Edit
Relationships
Edit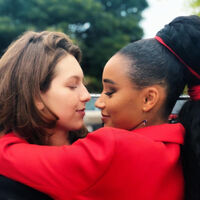 Sometime before or during her time at the USC Thornton School of Music, Straus was dating an unknown girl who she broke up with later. That girl is the inspiration behind Straus' debut EP, Make My Bed[18].
Amandla Stenberg
In July 2018 it was reported that Straus was dating actress Amandla Stenberg[30] who came out in June 2018 in an interview with Wonderland [31]. The two also attended the 2018 MTV Video Music Awards together in August 2018[32]. Moreover, Stenberg co-wrote Straus' song "Pussy Is God" which is also about them[33]. In an interview with Wonderland magazine in June 2018, King Princess revealed how the pair met: 
"It was a classic Malibu function; a drunken crowd by a heated pool. We talked shit about the systems that made us feel small and the effort we put in rejecting the institutions that reluctantly raised us. What I didn't tell her was that I distinctly remember walking out of my junior year English class reading: 'Amanda Sternberg comes out as queer.' She unknowingly set a precedent in my life, a gold standard of how to be proud and exist in the inter sectionalist of multiple identities that were once thought of as being conflicting."
- King Princess[34]
In December 2018 rumors started that the two split due to Amandla deleting all pictures of Mikaela from their instagram and vice versa however, those are unconfirmed[35]. As of May 2019 the two do not follow each other anymore on social media. On May 17, 2019 TheTalko confirmed the break up[36].
Quinn Wilson
As of 2019 King Princess is dating director Quinn Wilson.[37]
Philosophy
Edit
Straus is a gay Jew[38] and uses religious imagery in many of her songs, e.g. "1950", "Holy" and "Pussy Is God". However, she uses those to protest the religious belief of homosexuality being a sin. According to her "religious imagery has always been something that has been owned in the pop world. But I think if there's a space for religion and sexuality to intersect, there can be some comedy about it because there is something extremely fucked up and fun about being the antithesis of a belief system. Gay people always have existed in the religious community, but never in a way that's respectful"[7].
Straus has also spoken out against President Donald Trump and the abortion law reforms in the United States that even go so far to make abortion illegal in some states. She has expressed that she supports abortion rights and care and has displayed sides during her shows that raise awarness and encourage to donate to abortion care facilities[39].
Official Accounts
Edit
Social Media
Edit
References
Edit
Community content is available under
CC-BY-SA
unless otherwise noted.